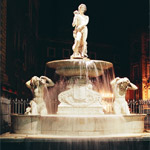 'L'acqua o' linzolu'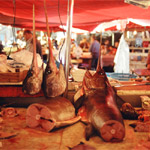 'La Pescheria'
B&B Surroundings:
Further info:
www.apt.catania.it
www.lapisnet.it
www.city-maps.it
www.aferabio.org
www.teatromassimobellini.it
www.regioni-italiane.com/sagre-catania.htm
www.tempoitalia.it/meteo/catania
Aci Castello & 'The Cyclops Rocks' of Aci Trezza.
It is only a 10-15 min. journey north up the lava rock coastline to these adjoining, pretty fishing villages.

Aci Castello is noted for its 13th century castle perched on an outcrop of volcanic rock, excellent swimming/snorkelling and solariums/lidos for sunbathing during the day and socialising at night.

Aci Trezza is named after the 3 jagged points of lava rock rising dramatically out of the sea, the highest of which is 60 metres. According to Greek mythology, they were broken off the top of Etna by the blinded Polyphemus and thrown at Ulysses as he and his men escaped from the Cyclops in their ships. It has a romantic promenade for your sunset 'passeggiata' and fine seafood restaurants to complete your evening.
Catania is Sicily's most interesting and intriguing city, dating back to Greek colonization in the 8th century BC, it lies at the base of the great volcano Mount Etna and is lapped by the crystal waters of the Ionian Sea.
An elegant and lively baroque city, ("the Milan of the south") it was re-built after the 1669 eruption and subsequent earthquake of 1693, almost entirely out of lava rock. It has the 2nd largest Roman Amphitheatre to the Colosseum (although only partly visible as covered by lava) and a 2nd Century AD Roman Theatre and Odeon. It has always been an important trading port with Africa and once the habitat of the ancient dwarf elephants of the Mediterranean and so inherited the elephant, carrying an Egyptian obelisk, as its emblem.
It is famed for its colourful Fish Market ('La Pescheria') situated at the bottom of our street and the cheapest and best food on the island. There is also a Sunday morning 'Flea Market' for antique hunters and a monthly Organic Food Market (www.aferabio.org) for organic food lovers on the 2nd Sunday of the month. The city has a thriving live music and arts scene (www.lapisnet.it www.city-maps.it), a majestic theatre (www.teatromassimobellini.it), open-air cinemas and an unrivalled choice of bars, clubs and good restaurants. ('Etna Fest', a festival of music, dance and theatre runs throughout the summer and features reputable national and international acts, many performing under the stars).
As temperatures in summer range from 30-45 degrees, Catania is fortunate to benefit from a long stretch of golden sandy beach ('La Playa' - with lidos & free beaches) and a black, volcanic sandy cove with small fishing port ('Porto San Giovanni Li Cuti'), both easily accessible from the centre by foot. 
In winter the weather is equally idyllic, 10-20 degrees with lots of sunshine and clear blue skies when it also  possible to ski down the slopes & around the 17th century craters of the volcano with the fantastic panorama of the Sicilian & Calabrian coastline ahead.
The famous Christmas and New Year festivities are marked by spectacular firework displays, which continue through January and the Festival of St. Agata (from 3rd-5th February), 3 days of cult, devotion, folklore and tradition. This is Sicily's largest religious procession, which passes right under our balconies on the night of the 4th. Only the 'Holy Week' in Seville and the 'Corpus Domini' ceremony in Peru are comparable, as far as popularity, to the festivities that for 5 centuries have been held in St. Agata's honour. The patron saint of Catania, she was imprisoned after refusing the advances of an invading Roman tyrant, tortured by amputating her breasts and later burnt to death .In commemoration of this sufferance you can buy in the 'pasticceria's' small ricotta and icing sugar cup-cakes with a cherry on top, called 'i minni di St. Agata', in dialect. Her remains are transported in an ornate silver bust, decorated with priceless jewels and she wears the crown of Richard the 'Lionheart'.
NB: St Agata is also paraded around Piazza Duomo on the evening of the 17th August, after spectacular fireworks, to commemorate the transfer of her remains from Constantinople to Catania.